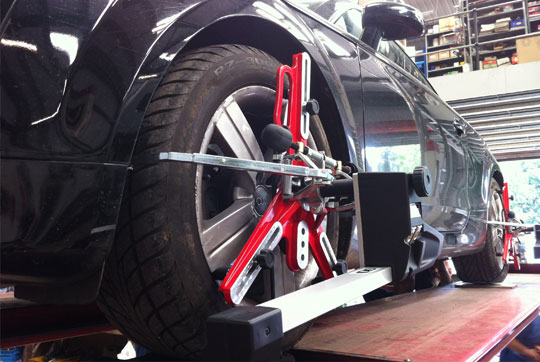 CCD Camera Wheel Alignment System

Customer print out - PC, 24" monitor and colour printer included
Bluetooth or cable connectivity
Software in Windows platform with 3D graphics
Fast execution through 4‐function keys
Unit can be controlled from each measuring head
Database containing the correct alignment specifications of over 15,000 vehicles
Automatic compensation of caster measure
Data freeze function
Toe‐in curve measurement procedure according to VAG specifications
Single screen summary of test results
Real time display of all axle data
Database of registered vehicles, searchable by customer name or by vehicle registration number
Supplied with Haweka Proclamps, which eliminates the need for run-out compensation.
GTR 8400 - 3D Computerised 4 Camera Wheel Alignment System

The Tecalemit GTR/8400 is a powerful 3D computerised wheel alignment system for checking and adjustment of car and van wheel alignment. Utilising machine vision software and high precision image targets it is fast, accurate and easy to use.
Key features are:
4 HD digital video cameras enable rapid target capture at any ramp height eliminating the need for a movable boom
Utilising 4 cameras enables cameras to be positioned closer to the ramp than is possible with 2 camera systems
The 4 wide angle cameras provide up to twice the range of working heights compared with 2 camera systems
Unique "Machine Vision" software provides accurate measurements without the need to calibrate targets
Integrated database incorporates alignment specifications, adjustment diagrams and animated instruction videos
Self centering wheel adapters accommodate wheel sizes 12" – 24"
Integrated storage for adapters and targets on the cabinet
Cabinet comes with high specification fast PC, extra wide 27" monitor, printer, and unique wireless remote control